Past Event
2023 Columbia University Medical School Fair
February 4, 2023
10:00 AM - 4:00 PM
Event time is displayed in your time zone.
Broadway Entrance of Alfred Lerner Hall
About
Please join the Postbac Premed Student Council (PPSC) and the Postbaccalaureate Premedical Program at the Columbia University Medical School Fair on February 4, 2023. More than 30 medical schools and healthcare programs are expected to gather to speak with more than 500 prospective students from Columbia University, Barnard College, and other schools from around the New York Metro area. Additionally, 5 virtual panels on essential topics in medicine will be held on the following weekends.
To learn more about the previous event, including attendees, breakout session topics, and more, read our recap article of the 2020 Medical School Fair.
Registration Deadline: Friday, February 3, 5 p.m.
Following is important information that will help students make the most of this valuable event. Please read it carefully before the event and bookmark this website on your mobile phone for easier access on the day of the event.
Medical School Fair, February 4
Alfred Lerner Hall
2920 Broadway New York, NY 10027
Click here for the venue map which can be used to locate your schools and programs of interest.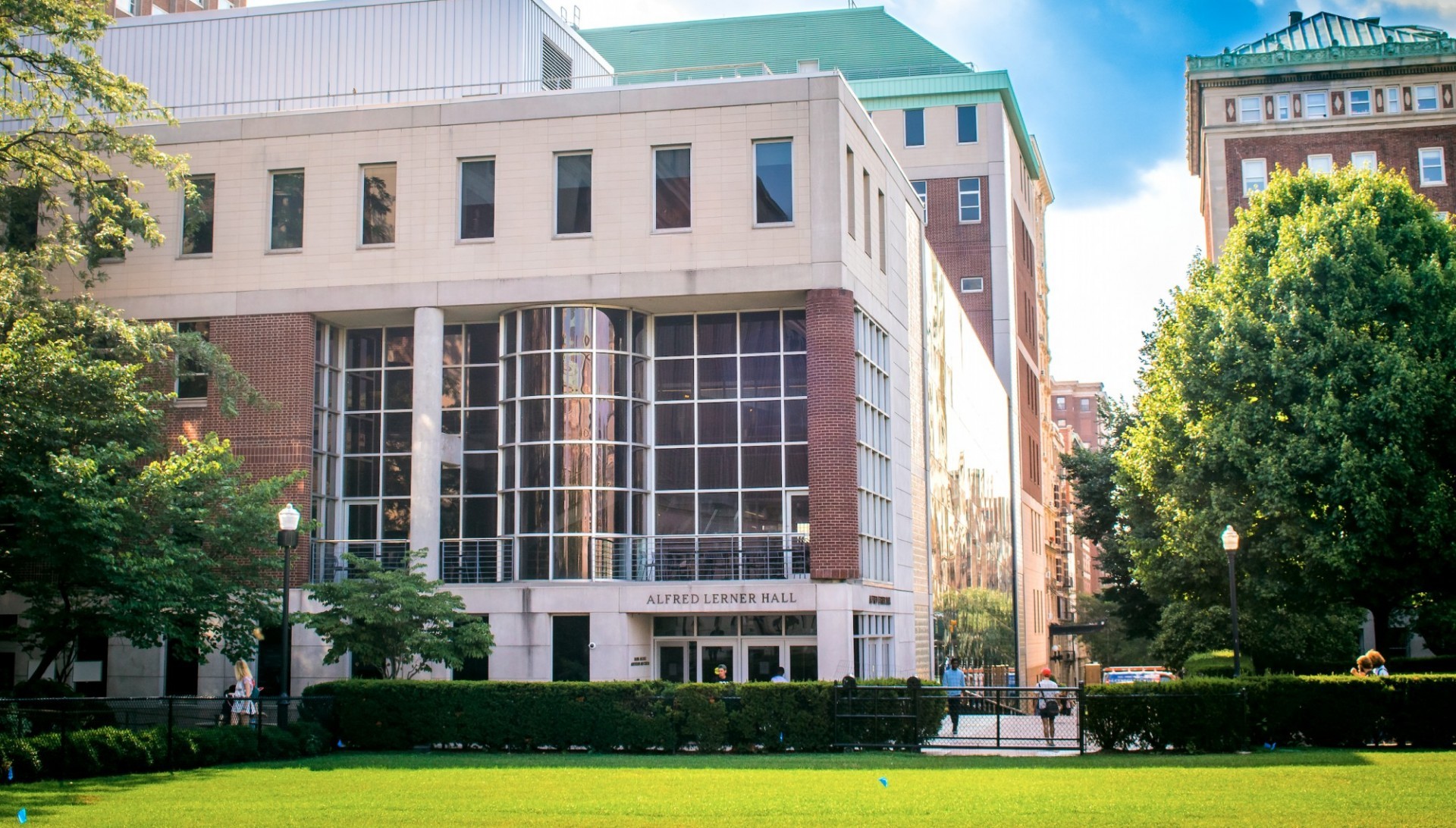 Click here for the venue map which can be used to locate your schools and programs of interest.
Columbia University Mailman School of Public Health
Weill Cornell Graduate School Master of Science in Health Sciences for Physician Assistants (MSHS PA) 
More school and program details will be added as we have their final confirmation of participation.
Admissions Deans' Panel (optional)
10 a.m. - 11 a.m., Roone Arledge Cinema
During this first event of the 2023 Medical School Fair, the PPSC will welcome a combined panel of Admissions Deans from four medical schools. The conversation will explore the complex admission process and potential issues that students should be aware of. Students will walk away with an understanding of the application process and thus better preparation. Details of panelists will be provided closer to the event date.
Host:
Dean Andrew Sunshine - Columbia University Postbaccalaureate Premedical Program
Panelists:
Dr. Deepthiman Gowda - Kaiser Permanente Bernard J. Tyson School of Medicine
Dr. George Heinrich - Rutgers New Jersey Medical School
Dr. Adrienne Morgan - University of Rochester School of Medicine and Dentistry
Dr. David Neumeyer - Tufts University School of Medicine
Dr. Valerie Parkas - Icahn School of Medicine at Mount Sinai
Lunch Break
11 a.m. - 12.30 p.m.
Student participants are welcome to have this time to explore the charming Morningside Heights neighborhood encircling Columbia University. Our list of recommended lunch spots can be found here.
Deans and school representatives are invited to a separate brunch organized by PPSC. Please refer to your emails for details.
Medical School Fair
1 p.m - 4 p.m., Roone Arledge Auditorium
Students are invited to join the representatives from more than 30 different medical schools and health programs at Roone Arledge Auditorium. Schools will cover admissions, curriculum, student life, and more. Representatives will share information on their own individual schools and the merits of their own programs. The event provides students with a rare opportunity to ask questions and have individual discussions with representatives from schools they are interested in.
Check-in starts at 9.30 a.m. for the optional Admissions Deans' Panel and at 12.30 p.m. for the main Medical School Fair.
Participants can check in at the Broadway entrance of Lerner Hall upon arrival.
Columbia and affiliate IDs are required for entry.
As per Columbia University's "Vaccine-Related Policies and Guidelines", COVID-19 vaccination is mandatory for all affiliates who will be on campus and attending this event. 
Business professional attires are expected at this event.
Please pay attention to the below list of etiquette do's and don'ts while attending the fair.
Attires
Business professional attires are expected at this event.
Jeans and leggings are not recommended.
Blazers, suit jackets, or appropriate dresses are advised.
High heels should be avoided.
Come prepared
To get the most out of your time at the fair, come prepared.
Look at the list of participating schools before the event and know which ones you want to prioritize speaking to.
Take time to preliminarily research those programs so you can narrow down what questions you have about each school.
Do not bring your resume as this is not a job fair or job interview.
Leave a good impression
While attending the fair, please conduct yourself as though a medical school admission committee member can overhear what you are saying at all times - you never know who is within earshot.
Remember to introduce yourself when beginning a conversation with a medical school representative. Name tags will also be provided for a better flow of conversation. 
Do not spend too long at a booth or with a school representative. Only spend a few minutes (5-7) at any one given table. This should be long enough to ask a couple of pointed questions, learn some new information about the school, and still allow other students to engage in the event.
Broaden your horizons
Speak with schools you think you may not be interested in. As medical school websites can be confusing or vague, this event gives you an opportunity to speak directly to a representative of any program and obtain a different insight! 
The below list of questions can serve as an aid when talking with medical school admission committee members at the fair.
How is your curriculum arranged?
When do patient-facing clinical experiences start in the program?
What type of physician and/or peer mentoring is available to students?
How is grading approached? (e.g. pass/fail vs. class ranking)
Does the program focus on any specific fields? How does this affect the curriculum?
What fields do the majority of graduates match with?
What is your match rate?
Are there any dual degree program offerings?
What focused/enhancement programs are offered and when are the application deadlines for these programs?
What community service elements exist within the program?
How many campuses does the program have? Does each campus have a specific focus area of study/service?
What hospitals does the program work with?
What research opportunities do you offer? Is research required in your program?
What resources are available to students to encourage student well-being?
What resources are available to assist students academically?
What percentage of students in the program are former postbacs?
Is lecture attendance required?
What does a typical day of a first-year student look like in your program?
Is small group learning part of the curriculum? How so?
Is self-guided learning part of the curriculum? How so?
What type of simulation labs are used throughout the program?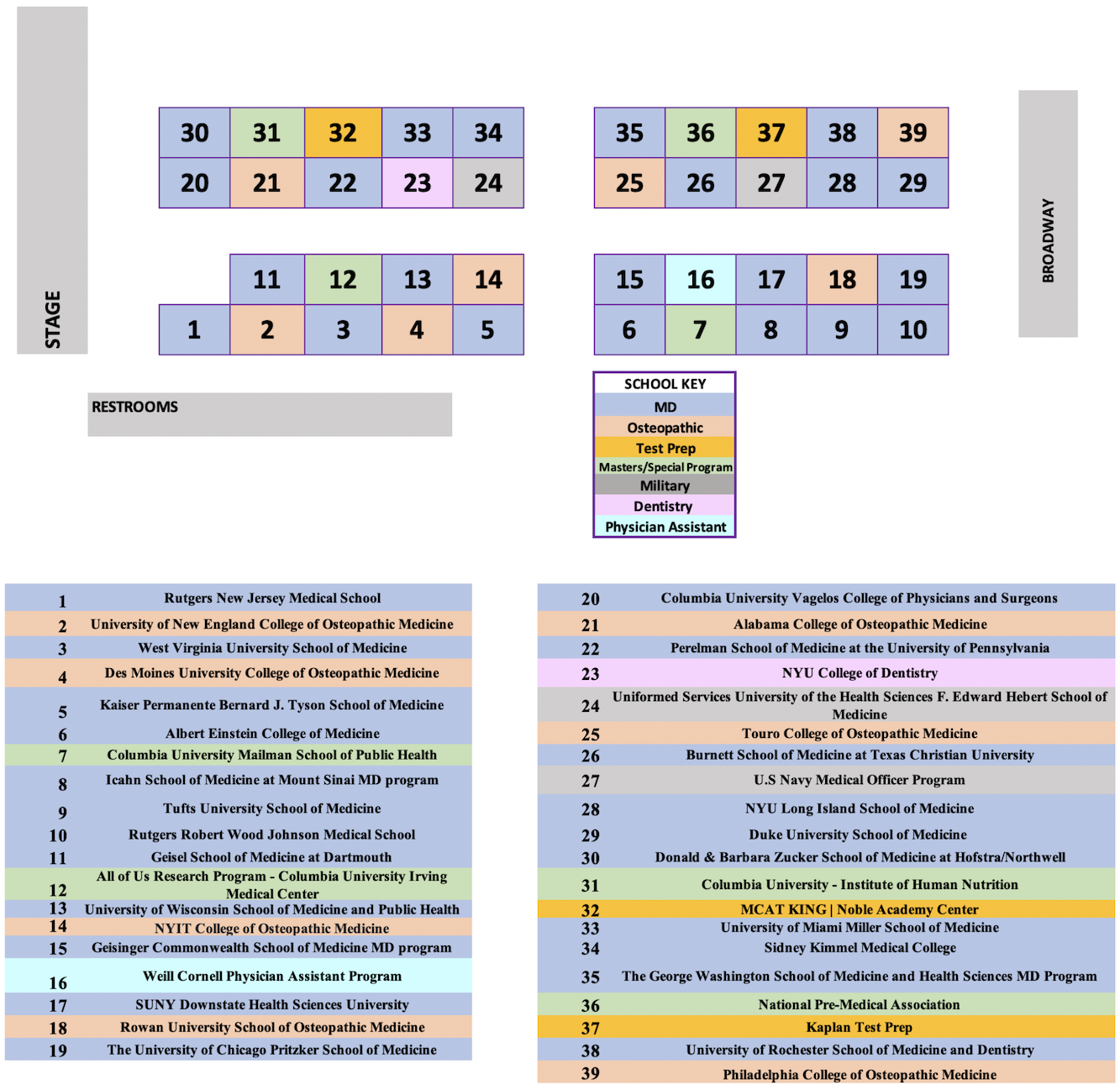 Virtual Panels, February 11 - March 4
School Fit
February 11, 2023
The goal of this panel will be for our students to walk away prepared to engage with the application process and feel confident interacting with medical schools. We want to tackle imposter syndrome and how to build the best application, find a medical school that is an excellent fit, and prepare to be life-changing physicians increasing diversity among the medical force!
Medical Careers in Global and Climate Health
February 18, 2023
During this panel, we hope to ignite a conversation with panelists who can speak to how medical schools are incorporating global health and the human health impacts of climate change into their curriculum, as well as how doctors and faculty are practicing climate health and environmental medicine in their careers. We will be convening early and late career experts and academic representatives who can serve as a resource for students to learn more about what adventurous pathways are available and/or what resources and programs medical schools are offering to help students integrate human and planetary health in medicine.
REGISTER FOR GLOBAL AND CLIMATE HEALTH
Medical School to Residency Program Match Process
February 25, 2023
This panel will discuss the medical school to residency match process, how important it is to prepare in medical school, and what pre-medical students should consider when planning for their future.
REGISTER FOR RESIDENCY MATCH PROCESS
Diversity, Equity, and Inclusion (Finale)
March 4, 2023
As a final event, please join us for an informative conversation regarding how the medical school curriculum and the field of medicine in general are working to be more diverse and inclusive from the perspectives of attending physicians and medical school administrators from 10:00 am-11:30 am. During the second portion of the panel, from 11:30 am-1:00 pm, we will be hearing from current medical students and resident physicians about their experiences within those systems. This session will be the conclusion of the 2023 Medical School Fair.
REGISTER FOR DIVERSITY, EQUITY, AND INCLUSION
Image Carousel with 6 slides
A carousel is a rotating set of images. Use the previous and next buttons to change the displayed slide
Slide 1: Columbia University Medical School Fair

Slide 2: Columbia University Medical School Fair

Slide 3: Columbia University Medical School Fair

Slide 4: Columbia University Medical School Fair

Slide 5: Columbia University Medical School Fair

Slide 6: Columbia University Medical School Fair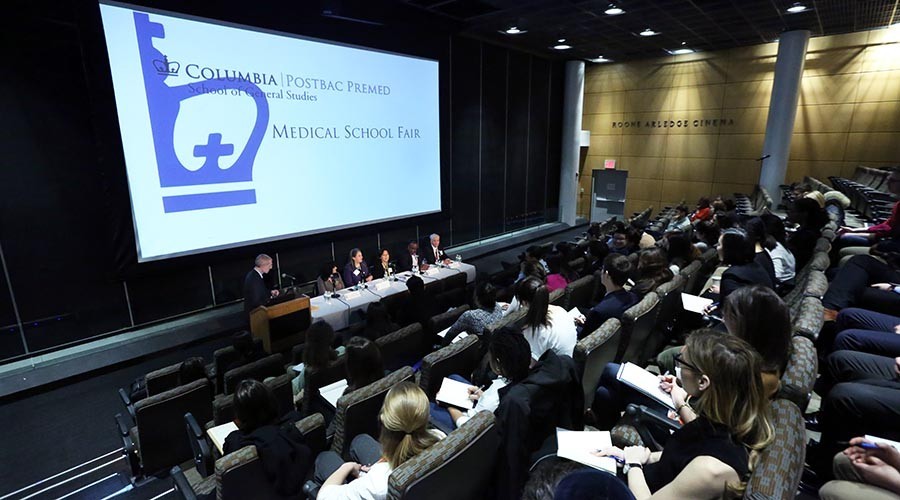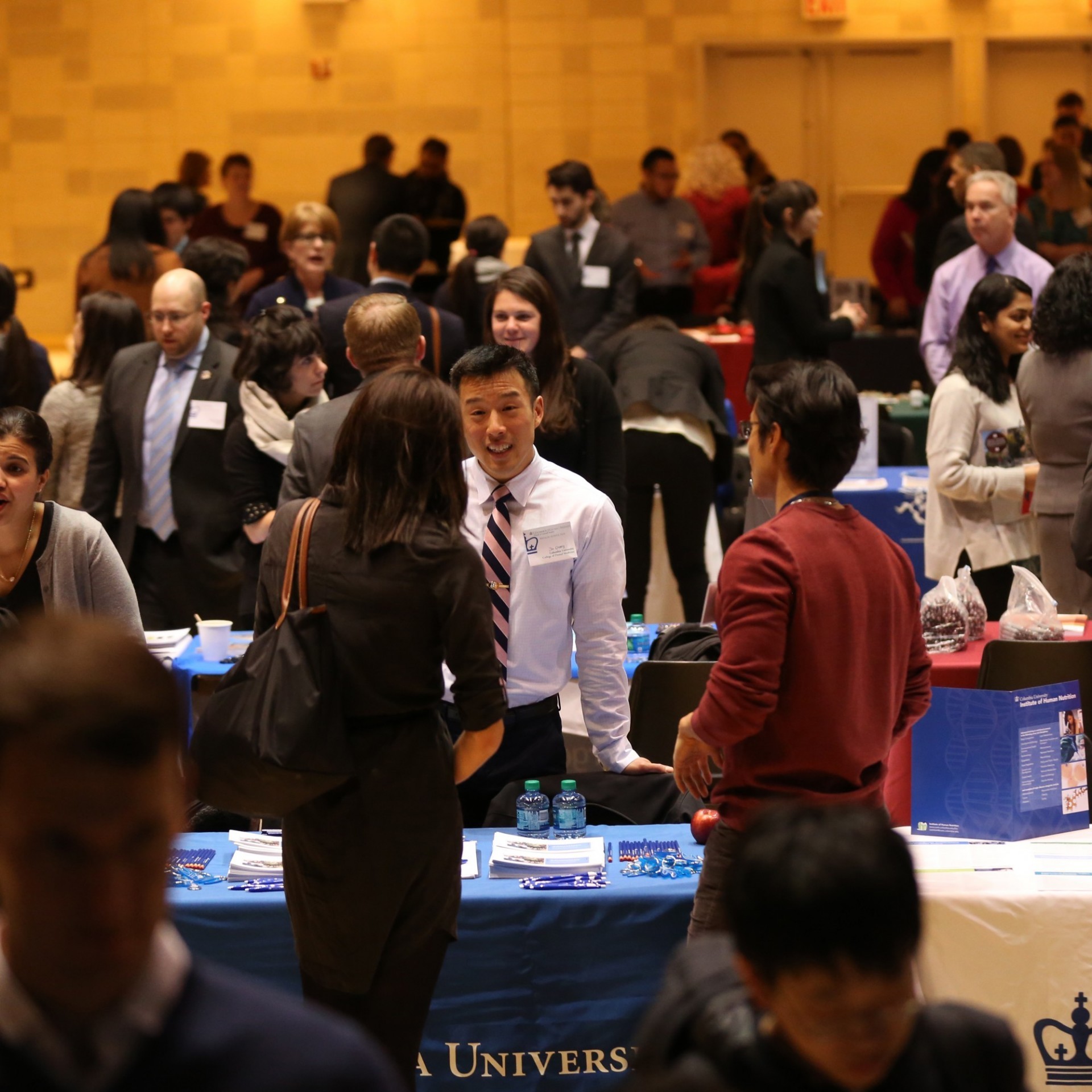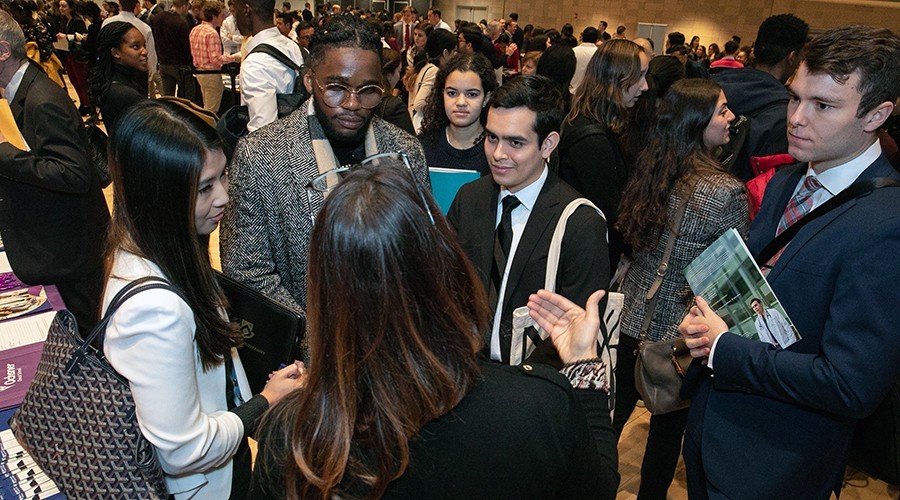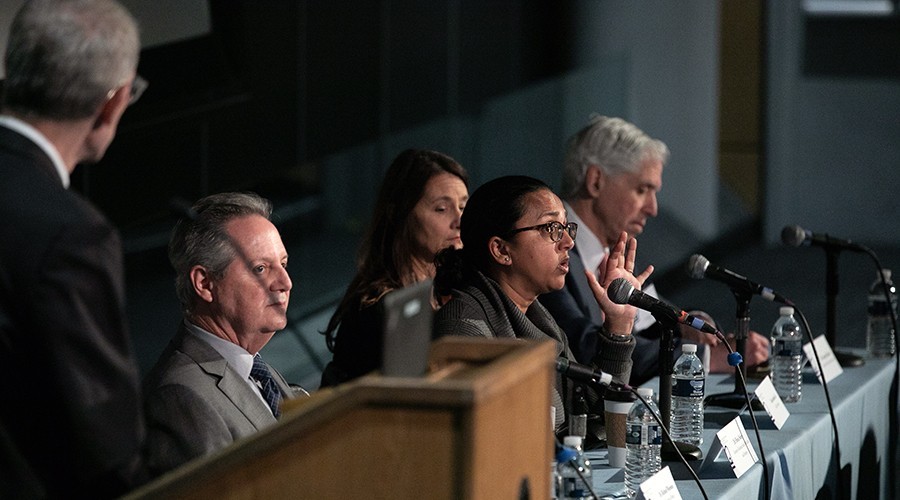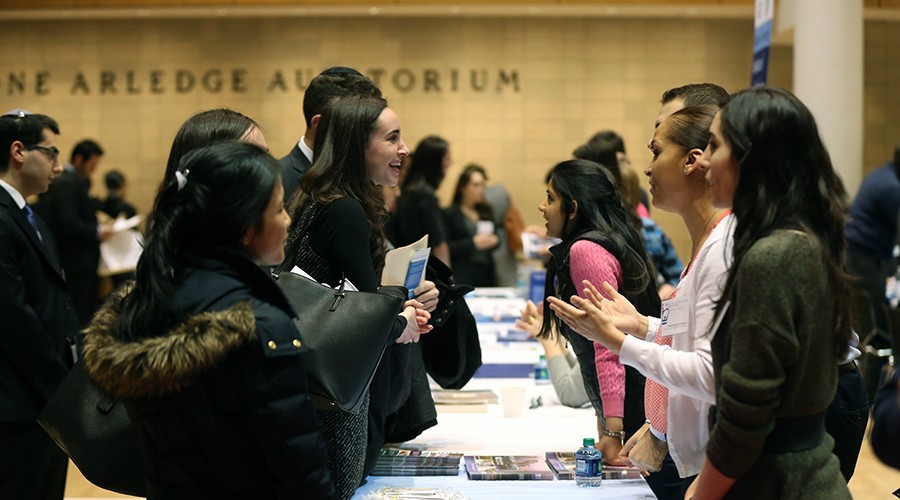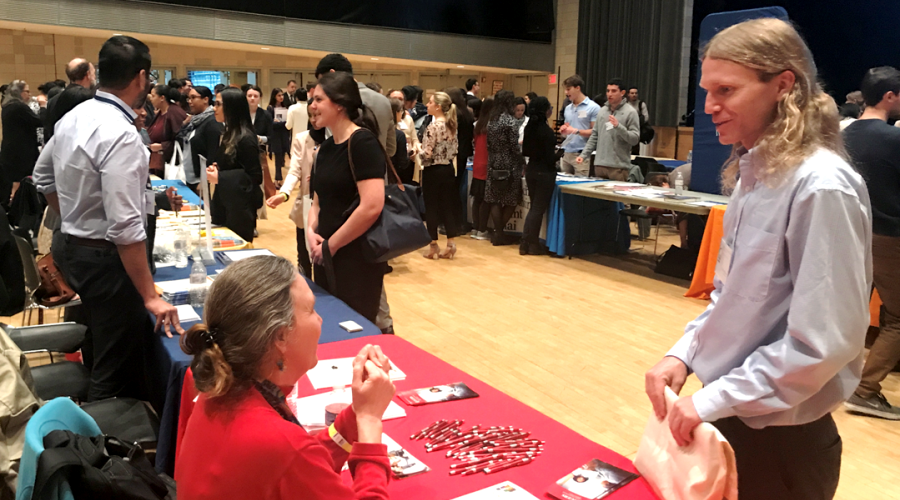 Previous
Next
"Whether you're interested in medicine or dentistry, schools in California or Florida, the Medical School Fair is the only opportunity to explore your choices with the deans of these programs all in one space."