Alumni Spotlight: Matt Manganiello, MD Candidate, Entering Class of '21
By
Eugenia Naamon, PPSC Website Manager
April 09, 2021
"I believe it is so important to allow patients to be vulnerable. To me, a doctor's job is to create a safe space for the patient to be completely themselves and able to tell the physician holistically everything they are going through."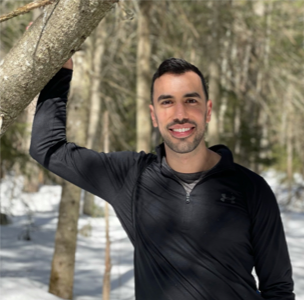 Before entering the postbac program, Matt (he/him/his) was a copy editor for a technology startup. He worked alongside professors, developers, and graphic designers to create an interactive textbook for college students. Although he developed an attention to detail and professionalism through this experience, Matt became interested in a career in which he could form more direct relationships with those he served. Matt started to see healthcare as a way he could use his skills to help and hold space for others, especially those who are often underserved in their communities. In his hopes to help combat inequalities in healthcare, Matt aims to be a physician that listens without judgement and ensures that his patients are comfortable while seeking medical care.
Looking back at his time at Columbia, Matt recognizes his role as an Organic Chemistry TA to be one of the most fulfilling experiences. He enjoyed the challenge of teaching others the intricacies and underlying patterns of reaction mechanisms with patience and clarity. Matt reflects that the postbac program at Columbia encouraged him to embrace collaborative learning and group studying, something that he had often avoided doing in undergrad but knows will be an important skill in medical school. 
Eager to get involved in his local community, Matt started searching for volunteer opportunities. He has conducted clinical research  at a lab at Mt. Sinai, advocated for those with traumatic brain injury with Columbia Synapse, taught New Yorkers about composting with GrowNYC, and volunteered at the Mt. Sinai Morningside emergency room. Matt is also a senior staff member at Project STAY, an organization that helps young people across NYC gain access to free primary care, mental health, and STI screening services. 
"Getting into medical school is not a race and it is important to take the time and space you need."
Matt will be attending medical school in July 2021. He notes that when choosing a medical school, location, patient population, and student representation were on the top of his list of considerations. Matt encourages those currently applying to medical school to go at your own pace. He notes that his own path involved taking an extra gap year. He says that getting into medical school is not a race and it is important to take the time and space you need to complete the rigorous application process. 
As a Pennsylvania native, Matt has been spending his free time cooking and hiking. He also recently invested in a bike and plans to spend the summer exploring new areas before attending medical school this fall.